- with our serialization solution -
Serial numbers
Label printing
Aggregation
Reportings
PRODUCT IDENTIFICATION USING SERIAL NUMBERS
In the age of global trade, many companies are confronted with product piracy and counterfeiting. The need for clear identification is growing in all industries and the identification of products (serialization) is becoming increasingly important. We have developed a serialization solution that marks each product with a unique identification number and thus creates the prerequisite for complete tracing along the entire distribution chain.
In addition to using serialization for protecting against counterfeiting e.g., we also generate plenty other serialized and non-serialized labels for identifying items, storage locations, boxes and pallets.
The software solution includes the following modules
We generate all codes according to your individual requirements and provide you with labels to identify your items, storage locations, boxes and pallets. But which code is best suited for your project?
Talk to us – we are happy to advise you!
The serial numbers are generated with our BetterID web application. Labeling products with a serial number makes each product unique. The serial numbers generated with BetterID are encoded in 2D codes (e.g. DataMatrix or QR code). These codes are provided in the form of an export file and can be passed on to a printing system manually or automatically. We design labels according to your requirements.
In addition to marking products with scannable 2D codes, the serial numbers can also be stored in an RFID label (according to GS1 Standard EPC). The coded information can be recorded contactless. Products marked with an RFID label can be read even if the code is not visible. When loading, all the products in a box can be recorded at the same time, this is significantly accelerating the scanning process.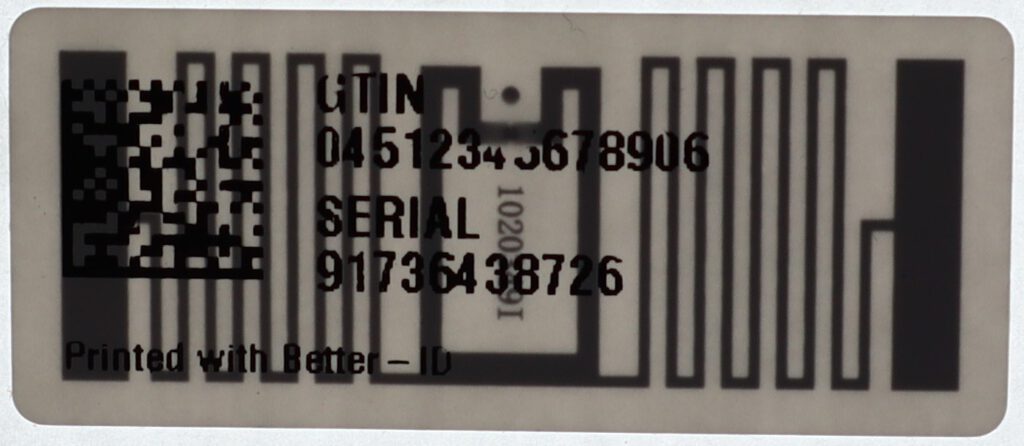 With our serialization solution, individual items can not only be marked (serialized), but also linked to larger packaging units and traced along the entire supply chain. After the serial numbers have been generated and printed with BetterID, the serialized items can be scanned with the BetterPack module on the packaging line and summarized under one code, e.g. on the box label. With the help of this aggregation, it is possible to determine easily which serial numbers are in which box or on which pallet.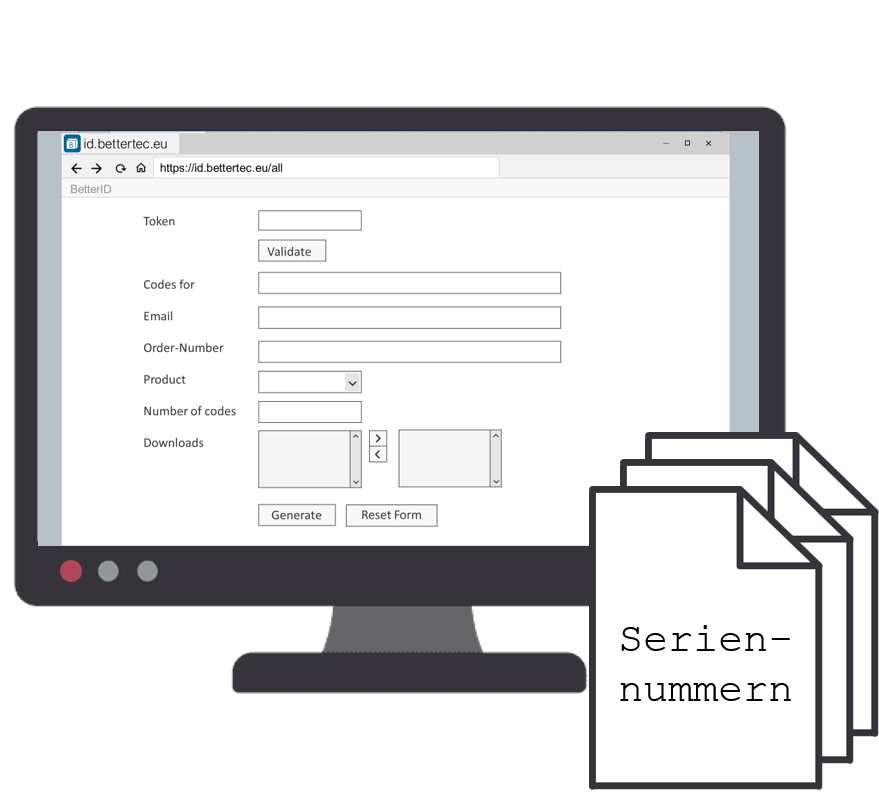 The BetterPack module is used for the efficient aggregation of product codes at the individual item level to other packaging units, e.g. shipping boxes and pallets, and for the creation of labels for the corresponding packaging units. The BetterPack Multiscan scanning device is used to record individual items. In contrast to conventional methods, the product codes are recorded by placing them on a glass plate instead of sliding them along the scanning device. The glass plate allows placing multiple (serialized) 1D or 2D codes (e.g. DataMatrix or QR codes) capturing them simultaneously.
If a carton is full, it is marked with a corresponding label (e.g. GS1-compliant label layout with SSCC code). The shipping box code now links all serial numbers contained in that box. This aggregation brings benefits for the entire supply chain. Serialized individual items no longer have to be rescanned and recorded at every phase of the process. Thanks to the aggregation of individual items into shipping boxes and pallets, the suppliers already know which serial numbers are contained in the delivery after scanning the box or pallet label, without even having to open the shipping box or pallet.
Combat counterfeits and label your products!