The efficient
Warehouse Management:
- Accelerate work processes and avoid returns -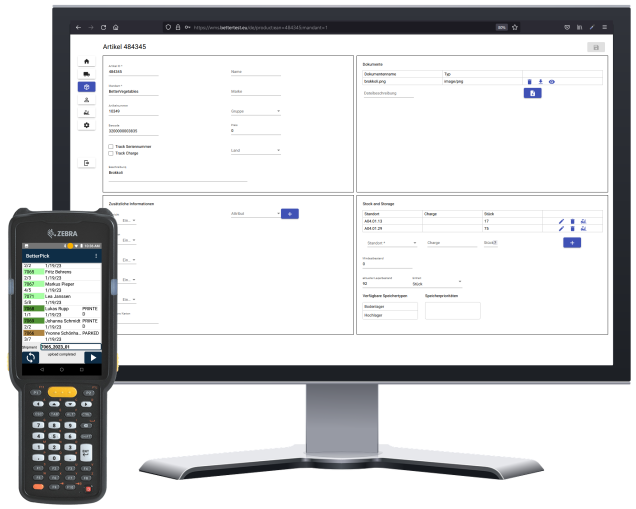 Order Management
Master Data
Storage
Reports
The efficient Warehouse Management System
Manage and optimize all workflows within the warehouse. The BetterWMS warehouse management system is a browser-based, multi-client application that can be accessed from any computer via an internet browser. Here you not only maintain your customer and item master data, but also manage orders, warehouse stocks and much more. All processes, i.e. in particular goods receipt, stock transfers, inventory, picking and a track & trace can be carried out by a scanner guided PDT (portable data terminal) device on the basis of a machine-readable article, batch and storage location and, if necessary, serialization at individual item level.
The software solution includes the following modules
The BetterWMS warehouse management system brings together all warehouse processes, 100% digitally. The cloud-based solution is operated via the internet browser and can therefore opened on any computer.
Replace paper-based processes and make your processes transparent and efficient with BetterWMS.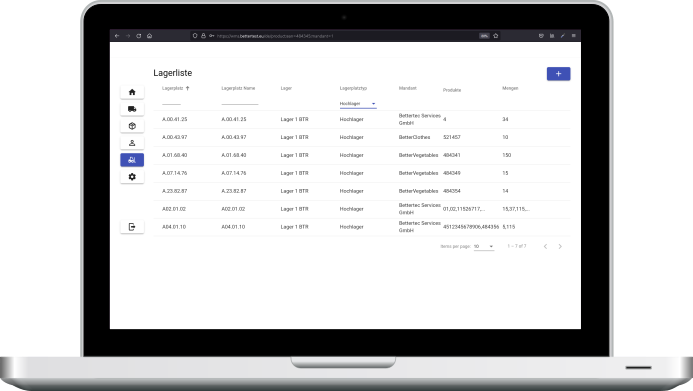 With BetterWMS you organize your orders efficiently and in no time at all. Orders are created easily and quickly and are available for picking on the PDT device before you know it.
The product master data is either transferred from the interface to the upstream ERP or can be added and maintained in the administration screen itself.
With the efficient warehouse management you control all movements in the warehouse. You manage your stocks and know where which items are at any time. In addition, storage areas, serial and batch numbers can be managed.
Functionalities (BetterWMS web application)
Extended Functionality (Scanner)
Test your digital warehouse with the
Warehouse Management System BetterWMS:
Test our solution in a 4-week tentative trial and see for yourself how easy it is to use the system and the resulting increase in efficiency.
With BetterWMS you have the best overview of your warehouse at all times. The stock of all articles by client with storage and retrieval dates as well as other criteria can be queried at any time. All data is available in the form of reporting for internal evaluation. These evaluations can be exported.
know where which article is located
Due to the unique identification of the storage bin, the system is able to display the exact location of a product at any time. In this way, you always know in which storage bin which item is currently located, regardless of whether it is a warehouse with fixed or variable storage bins.
Picking orders are created manually in BetterWMS or loaded via xls template or interface from an ERP, webshop or similar. BetterWMS provides an overview of all picking orders. This can be evaluated according to processing status and other parameters.
BetterWMS has interfaces to third-party systems, such as an ERP. Inventory changes and other recorded data are transferred to these systems. BetterWMS also offers a variety of integrated interfaces to marketplaces such as Amazon and eBay, as well as to store systems and providers of complete e-commerce solutions.
In addition to these exemplarily listed interfaces, further interfaces are in progress. We are also be happy to implement additional interfaces for you.
A clear identification of the article and the storage location and its marking with a machine-readable code is essential for a digital storage process. With our software, you can quickly and easily print individual article, box, pallet and storage location labels.
We would be happy to advise you and provide you with your individual labels in your desired format. Just talk to us!
through optimized processes in the warehouse and lower administrative costs

through fewer shortages and incorrect deliveries (e.g. minimization of returns)
through digital documentation of warehouse operations in real time

through paperless automated processes and quality assurance measures
BetterPick: Commissioning

incl. Hardware e.g. Zebra MC33

Try for free for 1 month**
PROFESSIONAL
Web application + Scanner
BetterPick: Commissioning

incl. Hardware e.g. Zebra MC33

Try for free for 1 month**
CUSTOMIZED
Software customization + additional hardware
BetterPick: Commissioning

incl. Hardware e.g. Zebra MC33

Try for free for 1 month**
Digitize your warehouse processes