Compliance for
distributors
- Goods receipt and verification in one step -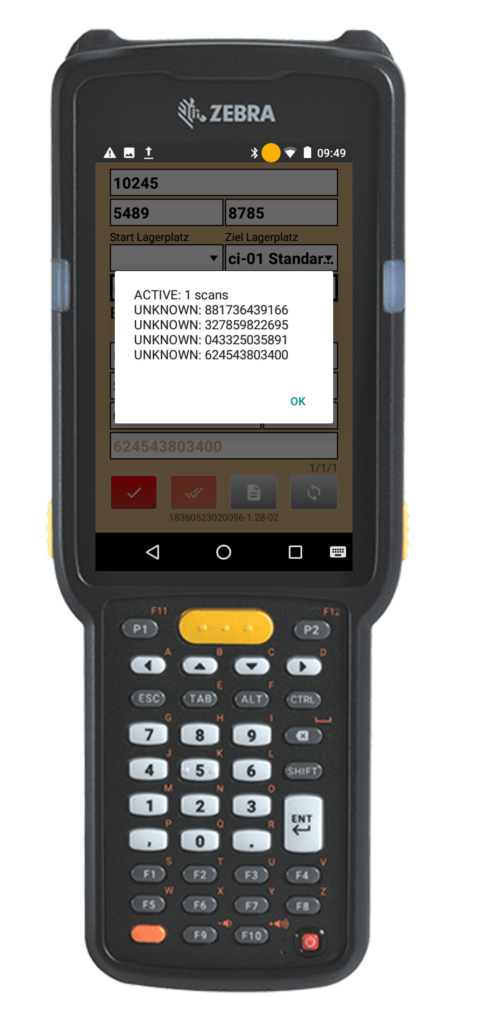 Warehousing
Verification
Commissioning
Reportings
THE COMPLIANCE SOLUTION FOR DISTRIBUTORS
The obligation to label prescription drugs (EU Directive 2011/62) not only affects the pharmaceutical industry, but also companies trading with prescription medicines. Distributors must verify the authenticity of each serialized medicine packaging before releasing it into circulation. We have therefore added the required verification function to our proven goods receipt solution in order to support distributors with a solution compliant with the falsified medicines directive.
The compliance solution offers freely combinable modules for verifying the serialized products, but also for goods receipt and other warehouse processes (e.g. picking).
The software solution includes the following modules

scanner-guided warehouse processes
BetterStore enables digitization of warehouse processes, making them faster and less error-prone. By default, BetterStore has interfaces to the warehouse management system. All relevant data on the received products, such as inventory changes, are transferred there.
Knowing where which article is stored
In addition to the transmission of goods receipt notifications, the storage location is also transmitted to the ERP system. In this way, you always know on which storage location your articles are stored, regardless of whether it is a warehouse with fixed or variable storage locations. In addition to warehouses with fixed storage locations, we also support chaotic or dynamic warehousing.
Verification of serialized products
The verification of the serialized products also takes place during storage. All products received are scanned and checked against the database of the national verification system. The storage scans are checked in the form of a collective file but can also be verified individually if required.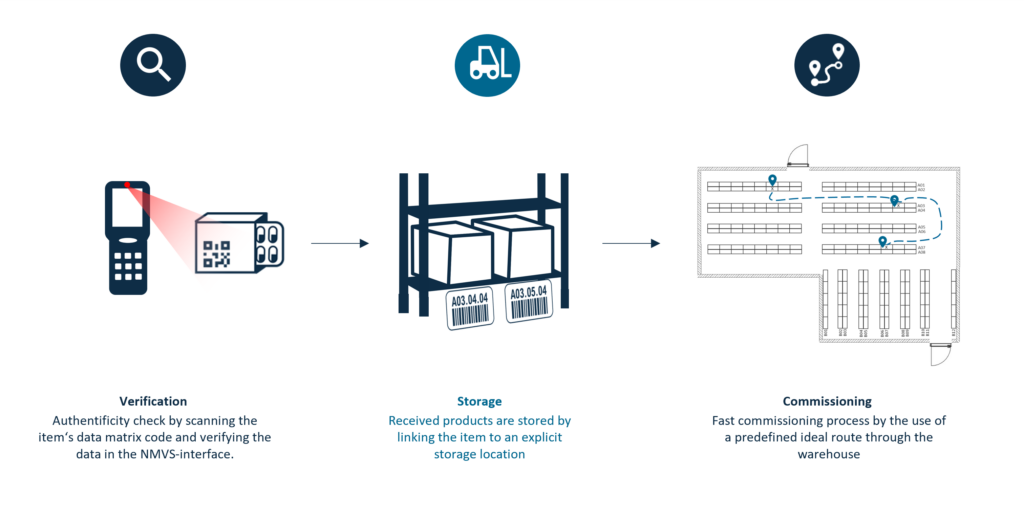 Paperless & error-free picking
The picking process digitized by our BetterPick module is not only faster, but also less error-prone. Already during the picking process, BetterPick uses integrated quality checks to ensure that no wrong products or incorrect quantities are picked. The resulting reduction in incorrect deliveries can also lead to a significant reduction in returns.
In the event of an accusation of having sent a counterfeit product, the serial numbers recorded with BetterPick can be used to prove which products were actually sent.
Fast route through the warehouse
During the development of BetterPick, we paid special attention in choosing the route through the warehouse. Not every intuitively chosen route is optimal. The PDT device guides the order picker to the appropriate storage locations on a route that is optimally calculated for each order. In this way, even inexperienced employees can find their way around the warehouse straight away. Thus initial trainings for new employees are much shorter.
When using our compliance solution, it is not only possible to check that an item was actually in the company (BetterStore), but also that it was actually sent to the complaining pharmacy (BetterPick). You know exactly which shipment with which products was involved and when the shipment took place.  
Verify your products quickly and easily during the storing of goods receipt